Dustin and Sami Coy are only 30 years old and they already have 5 kids, a mini-farm, raise hunting dogs, and homeschool! Dustin runs his own construction company and Sami is on the CCHC Board. To say their life is full is an understatement. To some people, the Coy's life may seem a little crazy. For my children, they see a trip the Coy's house as heaven! Plenty of land to run free, puppies to play with, and so many playmates! Sami and Dustin take their full life with a thankful smile- this is the life they planned on and looked forward to when they married almost 10 years ago.
Dustin and Sami met at just 15 years old at church. After Sami's first encounter with Dustin's mom, Dustin's mom told him she had met his future wife. Apparently she knew what she was talking about! They didn't start dating until they were 19 years old, dated for a year, married a year later. Soon after that they started their family, having their oldest child, Adrian 13 months after their wedding.
Dustin is a self-taught woodworker. His father and grandfather worked with detailed, overbuilt machinery. As Dustin grew up, he worked with his dad on these things. Dustin has a love for art, being a photographer and painter/drawer. This artistic eye mixed with his building background melded into the perfect career as a home builder. To him, homes are a work of art. At the beginning of his career he was spoiled to work on big budget homes on Orcas Island where he would spend countless hours making his work beautiful. Now, after moving to Wenatchee 3 years ago, he is working on building up his business in the Valley and Lake Chelan.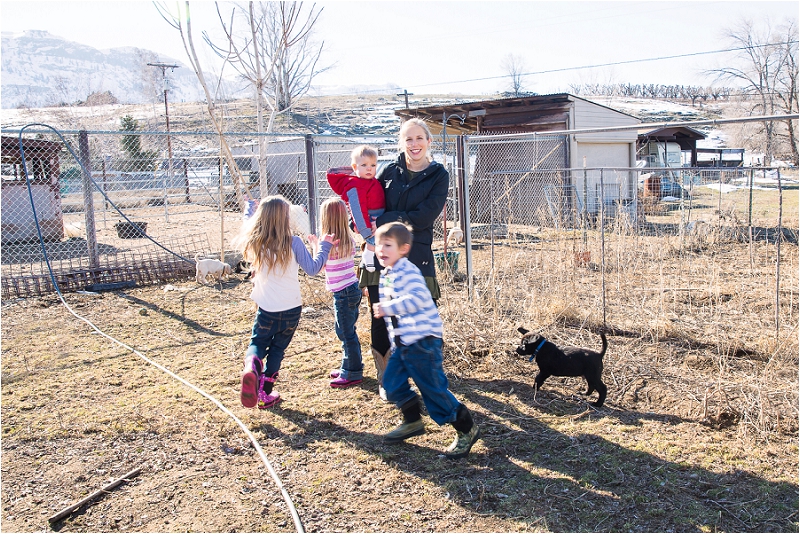 They both attended public school. At 15, Sami became a Christian. Her passion for her spiritual education quickly became her priority over her academic education. She always knew she was going to get married and be a mom. Striving for a career or higher education wasn't important to her. Now as a mom, she sees the importance of having a balance of both spiritual and academic education. It can be hard to serve the Lord without being well equipped. She did decide to continue her education by attending massage school. She was a massage practitioner for two years until Adrian was born. Even with her higher education, the hardest part of homeschooling is feeling like she isn't qualified to teach her children. After much contemplation, she knows a huge part of homeschooling is to foster a love of learning. She says, "You don't have to teach what you know, but you can learn and grow together. If a parent has the ability to learn, they have the ability to teach".
A life verse about homeschooling for Sami is Deuteronomy 11:19 . " You shall teach them to your children, talking of them when you are sitting in your house, and when you are walking by the way, and when you lie down, and when you rise." This verse is talking about the laws, but it pertains to how we should parent our children. Every moment of the day is a teaching opportunity and we have the ability to do it.
Homeschooling is so much more than book work around the table. But is sure is nice when they are getting that book work done! Because she has 5 kids and it's so chaotic, the most rewarding moment is when they are all quiet and diligently working; focused on their task at hand. There's a calm that doesn't normally happen.
After just one session at CCHC, hearing there was a lot of needs at the co-op, she decided to jump in and become a board member. She has been immensely encouraged through her church to not just serve her family. To have her family serve outside of their home is a great benefit to their children. They want to show their kids that God uses us to help others, not just their family.  The co-op is a way for her family to serve together.
So, at co-op next week when you see a young woman with what seems like "those can't be all her kids!" group around her, make sure to say hi! And maybe hold something for her. Because odds are, her hands are full and she needs some help 🙂